departure 08.25, temp: 16c
i woke early to the sound of a thunderstorm.  with the torrential downpour, we were unable to make use of the guitar-shaped pool at memory lane, and we had to revise our plan for the day.  though we were next to graceland, we put off that visit to the afternoon, hoping that the rain would let up, and instead headed back into the city to find some breakfast.  we stumbled serendipitously on the arcade restaurant, an authentic old-style diner (which has been used as many a movie set), and had carb-laden and calorific plates of eggs, biscuits with gravy, hashbrowns, grits, and bacon.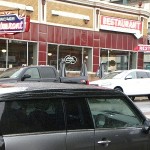 fortified, and with the rain slowed to a drizzle, we crossed the short distance to the national civil rights museum (wink to tamara: thanks for the tip to visit here). it is located in the lorraine motel, the site where dr martin luther king jr was assassinated.  the museum has exhibits covering 400 years of black history in america, with a large focus on the civil rights movements of the 1950s and 60s.  there was also a temporary exhibition, "purchased lives", documenting the slave trade at the end of the civil war.  it is an incredibly moving and powerful museum.  my knowledge of american history is not great, and these exhibits provided an accessible window and a context for some of the present social justice issues in this country.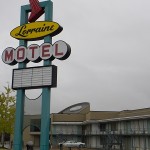 we took a few minutes to decompress, and then made the leap, physically and mentally, from one king to another.
graceland was a surprise.  the tour itself, and the commercial hype around the site was a bit much, but the house itself was not the kind of ostentatious tacky i had been expecting, and the ipad tour (narrated by john stamos) with photos, audio clips of elvis, and commentary from both priscilla and lisa marie, was really well done.  our favourite room was the blue and yellow media room, with the multiple tvs, projection screen, record collection, and padded vinyl wet bar.  the jungle room was a close second.  the rain had stopped, and we were herded through the grounds and back onto the shuttle to the "add on" areas featuring elvis's car collection and archives of his estate.  i have a different appreciation for the king after this experience.
unfortunately we didn't have more time in memphis.  it's somewhere i will come back to.  i want to explore the city's history, check out sun studio and stax records.  this is the cradle of american music, and still has a lot to offer.
from graceland we picked up highway 61 again and made the short drive south to our next destination, clarksdale, mississippi.  there are no real views of the river along this stretch.  initially, near tunica, a long strip of casinos, and then miles and miles of cotton fields.  it is harvest season, and some of the fields are vast blankets of soft while boll, while others are bare and lined with huge white bales wrapped in bright yellow plastic.
clarksdale is a small city at the crossroads of highways 61 and 49, and is the heartland of the delta blues.  we came to find barbeque and juke joints, and were not disappointed on either front.  there are dozens of festivals throughout the year, and we happened to coincide with the deep blues festival.  venues around town were hosting local and visiting musicians.  we had a beer at levon's bar and grill, and moved on to abe's bbq (serving up bbq since 1924) for amazing bbq pork with beans and slaw, and hot tamales.  i need to learn how to make sauce like that.  we headed back into the downtown in search of festival venues for the evening.  we checked out jesse "cotton" stone at the delta blues alley cafe, then wandered back to levon's for blue mother tupelo and another beer.  we headed back to the cafe for a few songs from local blues group the essentials, and ended the night at ground zero blues club (owned by morgan freeman).
between levons and the delta blues alley cafe, we met up with don, an australian traveling with five mates on an epic american journey of their own.  we share a passion for road trips, blues music, and adventure.  we may encounter them again as we're all heading down towards new orleans in the coming days.
our room at america's best value inn and suites was, well, let's just say icky.  don't stay here.  (the aussie guys were stuck here too.)  we would give it a negative star rating.  glad we brought our own sleeping bags and towels, along with the clorox towels to wipe all the surfaces.  i can manage dated and dingy, but not dirty as well.  so if you plan a trip to clarksdale, and i strongly encourage that you do, make sure to book a hotel early if you're in town during a festival.  decent accommodations are limited.
arrived: 16:10, high temp: 22c, traveled: 159km