departed: 07.35, temp: 26c
we decided that this would be a serious driving day, racing via interstate routes to get to kentucky.  not that we didn't want to spend time wandering through eastern mississippi and alabama, but we had planned for a couple of days of bourbon sampling before heading home.  so we were up and on the road early.  but two things to do before we hit the interstates. first, we walked back down to the café du monde for the real nola experience of beignets and café au lait.  they were so much better than the ones the day before – and there's no queue at 06.30!  second, we took a small detour to satisfy my need to drive across lake pontchartrain over the 24 mile causeway bridge.  it was beautiful to see the sun coming up over the lake with new orleans in the far distance.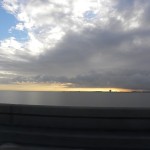 interstate highways are designed to cut the straightest, flattest routes across the country.  they are extremely convenient for getting quickly from a to b, but this comes at a price.  their grey asphalt ribbons and bland chain-throttled exit loops reduce the country to a sameness that belies the vast diversity of life taking place just beyond the tree-lined curtain.  so it was only with the appearance of each welcome centre that we knew we were crossing from one state into the next.  at some point, the I12 morphed into the I59.
any hope we had of escaping the heat as we headed northward were dashed when we stepped out of the car as we stopped for gas in tuscaloosa, alabama.  it was at least as hot there, though slightly less humid.  we bypassed birmingham, and carried on along I65 into tennessee.  the sameness faded a bit as the landscape changed: the road had a few more hills and corners.  i needed a break from the boredom, so we sidetracked on to a wonderul rolling county road to find the tenn south distillery in lynnville, tn.  we sampled their excellent clayton james whisky, and their high end shine.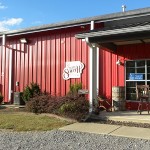 we backtracked to the I65, and managed to get to nashville just in time to get stuck in rush hour traffic.  intially we had intended to stay a night in the country music capital, but hotel rooms downtown were impossible to find (there's a fire convention in town) and there was no show on at the grand ole opry that night, so we decided to save nashville for another trip.  we pushed on north, eventually pulling into the outskirts of bowling green, kentucky (home of the national corvette museum – no, we didn't visit).  it was already dark, and our hotel was on the brightly lit strip of an exit ramp.  we had a decent but unremarkable dinner at one of the chains that line the strip, and a remarkably decent room at the best western (it was splinter new, as the dutch would say).
arrived: 18.50, high temp: 33c, traveled: 1036km