departed: 10.15, temp, 28c
we knew this would be a much shorter driving day, so we lounged for a bit in our nice clean room before setting off.  then we immediately lost an hour when we crossed back into the eastern time zone just outside of bowling green.  we headed off on the wh natcher parkway, which we had expected to be similar to the natchez trace parkway, but which was really an interstate in disguise.  so we quickly exited to find smaller byways.  much better.  the backroads climbed over rolling hills capped with fields of soy beans and corn stubble, dipped into forested hollows bright with autumn colours, and twisted along winding riverbeds glinting in the sunlight.  it was a beautiful day to be out exploring this countryside.  county road 84 was particularly scenic, and it passes by abraham lincoln's birthplace and boyhood home – there are dozens of historical plaques marking places touched by the future president.
eventually we made our way to the little town of loretto, home of the maker's mark distillery.  we took the hour long tour, learned about what makes bourbon different from other whisky (corn, water, location), and what makes maker's mark different from many other bourbons (wheat instead of rye).  in the tasting room we sampled four of their products:  maker's white, maker's mark, maker's 46, maker's mark private select.  we bought a bottle of the maker's 46, which irene was able to hand dip to create the signature red wax seal.
from loretto we carried on along country lanes until we stumbled upon the springhill winery in bloomfield.  we stopped in to sample a few of their products, and bought their bourbon bordeaux, a blended red wine aged in charred bourbon barrels.
it was getting late, so we hopped onto the ml collins blue grass parkway (which again is not a parkway), merged to highway 60 into frankfort, the state capitol of kentucky (who knew?).  we had booked another best western hotel in advance, this one recommended by friends who visited this area earlier in the summer (wink to andrea and craig – thanks for the tip!).  after checking in, we headed into the historic downtown to find capital cellars (andrea and craig – thanks again!), a wine and spirits store with a tasting bar and menu of small plates.  wish we could have places like this in ontario!  we ordered a bourbon tasting flight, which allowed us to select five different pours from their extensive menu.  we tried: ezra b 12 year old single barrel (99 proof, ezra brooks distilling, bardstown/st louis); willet pot still single barrel (94 proof, willet distillery, bardstown, ky); michter's small batch (91.4 proof, michter's, louisville, ky); jefferson's reserve very small batch (90.2 proof, kentucky artisan distillery, crestwood, ky); wathen's single barrel (94 proof, old medley distillery, bardstown, ky).  (note to craig:  no, we did not spring the $85 for a shot of the extra special pappy's!)  we made a dinner of their charcuterie and cheese sampling platter with a tray of mixed olives.  we chatted with staff and patrons (including the mayor) about whisky, music, and travel; and finally,exhausted with sensory overload, we called it a night.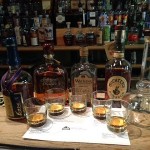 arrived: 17.45, high temp: 32c, traveled: 359km