departure: 07.42, temp: 11c
finally, our first day following the great river road (grr)!  we were up before the sun, grabbed an early breakfast back at the forest view restaurant, and headed south on highway 169, leaving behind the distinct smell of wood chips from the paper mill.  on the outskirts of grand rapids, across from the strip of big box shops, was a little white house with several signs marking it as the local attraction: judy garland's birthplace.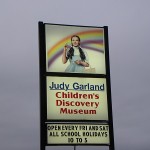 as it was early, we didn't get to visit, but i'm sure it has a trove of memorabilia.  the drive south towards the twin cities is mostly unremarkable.  it passes through dozens of very small towns, with populations in the hundreds.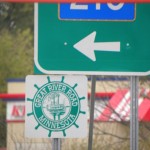 we passed through the mis-named hill city (it is neither:  population 633, but it has two liquor stores! ), aitken, brainerd (where we lost some time searching for the badly signposted paul bunyan land), st cloud, and into minneapolis.  we had to make a stop at the mini dealership (wink to janice: stop laughing!) to replace a headlight bulb – big thanks to the good people at mini motowerks for getting us sorted so quickly.  but we then had to navigate through the city.  we found our way on to part of the grr that runs through a lovely neighbourhood of big old houses; there is a bike path and walking trails all along the edge overlooking the mississippi.  it looks a bit like the river parkways in ottawa.  a bit of stressful navigating when we missed a turn, but finally we were across the river, heading south on the east side on highway 10, crossing the st croix river into wisconsin at prescott.  we had a short stop at the visitor centre where we picked up a handy map of the entire grr route and took a few photos of the river.  the route follows highway 35 south, first past a purina dog food factory (close the windows!), then through rolling fields of corn, then into high bluffs, and swampy shoreline.  again, many small towns, a few with some sort of claim to fame (pepin: birthplace of laura ingles wilder, author of little house on the prairie).  at alma, we saw our first proper mississippi river boat – it was pulling into the lock station, so we were able to get some good photos as it slowly drifted past.
it was dark by the time we pulled into our destination for the evening at la cross, wisconsin.  we had dinner in the lounge of the rather upscale piggy's restaurant, with a glass of local beer: spotted cow lager from new glarus brewing. in the pitch dark, unable to see any no-tell motels in the glare of the strip of cheap chain hotels, we landed at the days inn for the night.
arrived: 19.15, high temp: 24c, traveled: 672km