departure: 08.08, temp: 11c
oddly, it warmed up over night.  we were on the road just after 8, continuing west towards thunder bay.  there was construction on most of the bridges across that stretch of highway, so a few delays waiting at lights.  for the first time in a very long time of visits to the lakehead, i did not get my breakfast at the hoito – closed for thanksgiving.  so pitstop at timmies, and back on the highway.
at this point, we felt like we were finally properly starting this road trip, as we were finally getting into new territory.  highway 61 starts in thunder bay, and roughly follows the mississippi all the way down to new orleans.  the great river road is a route made up of various highways and backroads, including large stretches of the 61, that more closely traces the river.  our destination today was grand rapids, mn, which marks the location where the mississippi becomes navigable.  to get there, we first followed 61 south.  the road passes through rolling farmland bordered by ancient granite cliffs striped with stands of birch and poplar trees, and crosses the border at pigeon river.  we were through customs by noon, and then immediately gained an hour as we moved into the central time zone.  from that point the road runs literally on the edge of lake superior to its westernmost point in duluth.  the sky was clear blue, and little whitecaps danced out on the water.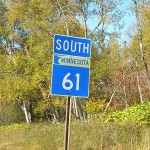 we stopped at beaver bay for our first gas since white river, and had a picnic lunch at a harbour a little south of there.  duluth is a prettier town than i expected, and the downtown core is seeing signs of revitalization.  from there, we changed to highway 2 west, on a straight line out to grand falls.  not much on the way there (passed through floodwood: the catfish capital!); the landscape is weirdly reminiscent of the trans canada between thunder bay and dryden – long straight stretches parallel to the railroad tracks, nothing but scrawny trees and marsh.
grand rapids itself is pleasant enough (motto: it's in minnesota's nature!).  the main drag of highway 2 is right along the river through town, though you'd never know it as the local pulp mill is also there in the middle of town, blocking the view.  we booked into the forest view motel for the night.  the room is clean but could use some decor updating.  bathroom fixtures are powder blue and the tub has those non-slip floral decals that everyone had in the 70s.  but we overlook one of the town's 4 lakes, and we're next door to the forest lake restaurant/steakhouse/lounge where we had fresh walleye (pickerel to us northerners), and a decent lager from grain belt brewers in mn.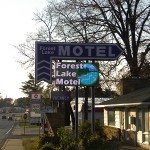 had an early night as we expect a long day of driving tomorrow.
arrived: 16.30, high temp: 24c, traveled: 696km